The coffee table is the focal point of your living room. Whether you're catching up on family updates or enjoying a film, everyone will end up using it — eventually.
Having said that, it can't look too pristine or too cluttered that there's no space left for mail, documents or afternoon tea. Instead, you want to go for a beautiful yet practical aesthetic.
How to get started? Styling a coffee table can be done in a hundred different ways. However, once you look at the number of coffee table styles on Pinterest or Instagram, you'll start to notice a few similarities.
In this article, we'll discuss some basic tips for styling coffee tables so you can create an impeccable surface that every guest appreciates.

1. Flowers
Flowers make the room come to life. You can choose colors that match your living room's aesthetic and furniture.
My coffee table has two vases for flowers of varying heights. You've probably heard of the rule of three which dictates that three objects that have the same height will likely compete with each other visually. It's natural for eyes to look for a little relief so variation is highly recommended.
2. Stacked books or magazines
Place books or magazines that highlight your interests and personality on top of your table. These may help jumpstart future conversations.
Pay attention to the covers' color schemes. Those who have a pastel-themed living room could stack books in matching colors to establish a cohesive look and feel.
Don't forget to stack reading materials based on size with the largest at the bottom and the smallest on top. Otherwise, your coffee table might get cluttered as guests attempt to browse through the magazines.
3. Candles
Candles can light up the room and improve the room's vibe.
One of our best styling tips is to place them in intricately designed vignettes to add visual appeal. You can change the vignette or experiment with different coloured candles as the seasons change. Place them on top of the trays so they fit right in the table's aesthetic.
Scented candles will help your living room smell good so experiment with assorted fragrances. There's a scent for every occasion and you'll have fun finding the right scent for your space.
Decorative Candles: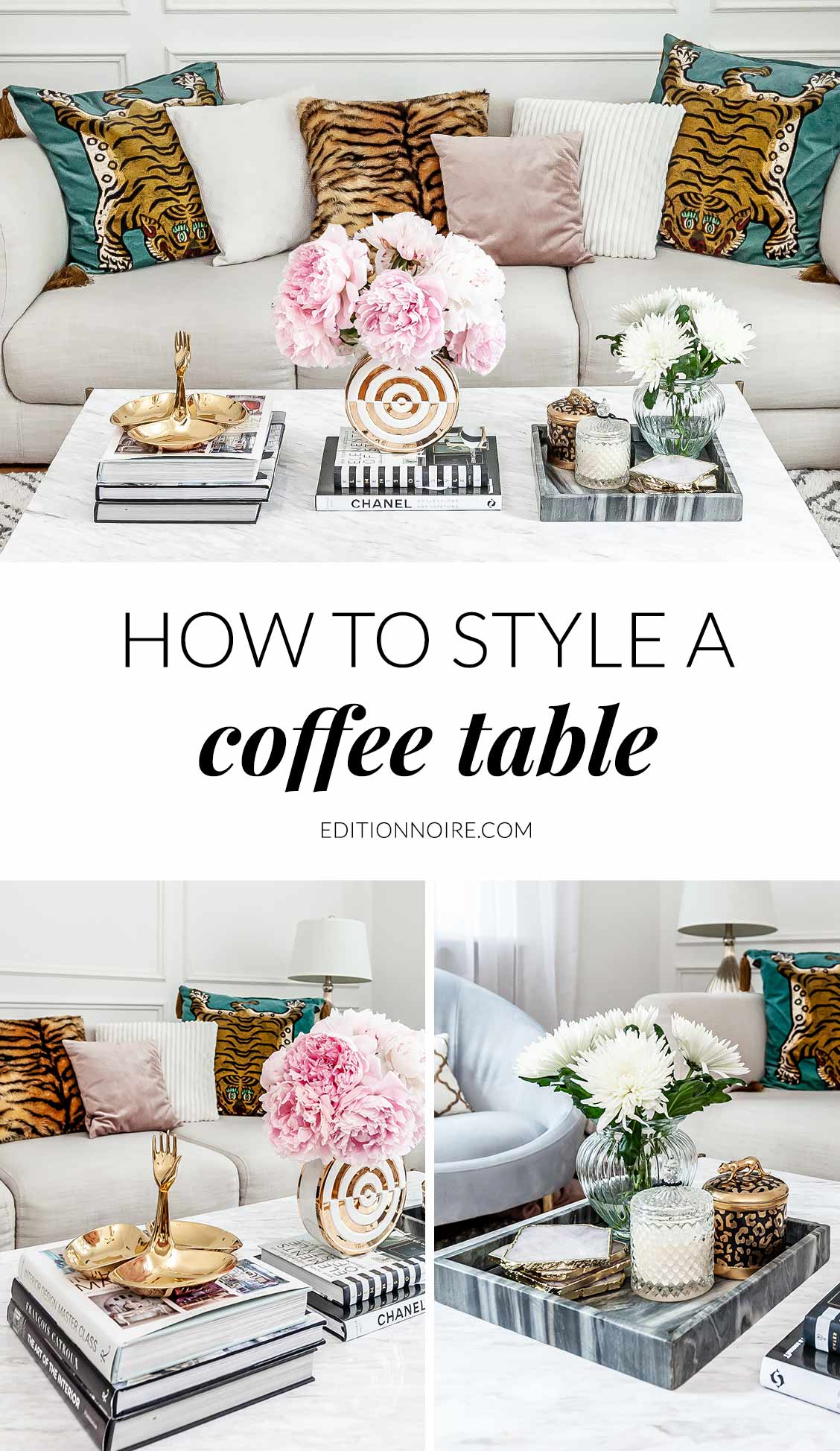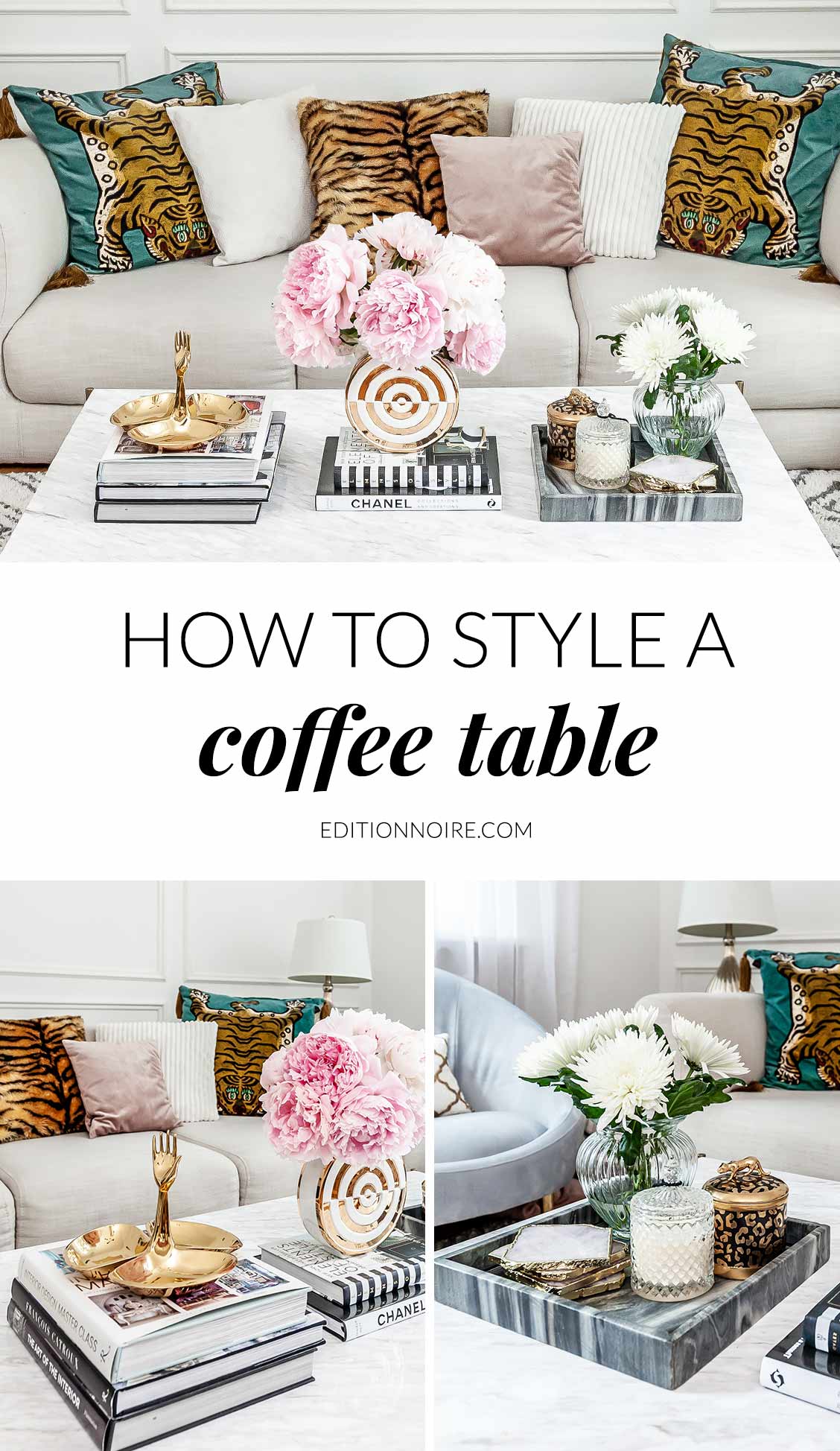 4. Trays
Trays are powerful decorative elements. It's easy to feel that everything on top of the table looks like clutter – but place them on a tray and they appear like artistic home decor.
Trays are also staples for coffee and tea that you'll serve to guests. A stylish tray is a powerful ally because it enables you to serve food or drinks without leaving a mess.
My marble table is topped with a tray made of grey marble. I placed the candle and flower vase on top to add texture and elements that could enhance my surface.
5. Decorative objects
Spice up your coffee table with decorative objects that highlight your personality. Add souvenirs from the places where you've travelled or personal objects that tell a story. These can also serve as conversation starters once you entertain your guests.
My coffee table has the Eve Bon Bon from Jonathan Adler with a hand pointing to the ceiling. This offers functionality for guests and adds some shimmer at the same time.
Ready to get started?
I hope you found the mentioned tips helpful in transforming your coffee table from boring to interesting.
Overall, you need to add flowers and candles that match your room's aesthetic. Include some decorative objects like souvenirs or books that highlight your interests. Put decors atop stylish trays and they'll fit right in.
Got any design tips for styling your coffee table? What does your coffee table look like? Let us know in the comments below.
Shop the look
Discover our unique collection of quality-driven, handmade products for the modern home:
jonathan adler bullseye vase & eve bon bon
L'Objet Leopard Candle
Michelangelo Marble tray